November 20
Today at VDNH EXPO the Festival "Our Brand" has begun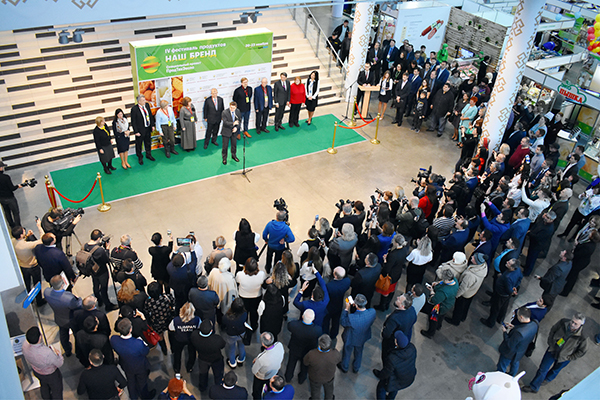 Today at VDNKH EXPO the Festival "Our Brand" has begun. The official opening ceremony was attended by Deputy Prime Minister of the Government - Minister of Agriculture of the Republic of Belarus II Fazrakhmanov, deputy of the State Duma of the Russian Federation, member of the State Duma Committee on Agrarian Issues AN Ponomarev, head of the department of the consumer market, tourism and consumer protection Administration of the city of Ufa, Republic of Belarus, LS Makshukova, Head of the Department of Rural Development and Social Policy of the Ministry of Agriculture of the Republic of Crimea Khmelevskaya TS, Envoy for Foreign Economic on the issues of the Consulate General of Hungary in Kazan Akosh Madari, President of the National Association of Manufacturers and Suppliers of Regional Products I. Merkulov, President of the SRO Audit Unions of Agricultural Cooperatives "Russian Union" Chayanov "V. Vershinin, Rector of the Bashkir State Agrarian University I. Gabitov I., guests from other regions of Russia.
All speakers noted the importance of the "Our Brand" festival for the development of the food market not only in the republic, but throughout the country, calling the project exemplary for other regions.
 After the opening, the official delegation walked around the stands of the exposition participants - more than 130 companies from 19 regions of Russia and more than 30 farms of the Republic of Belarus.
At each stand, a thorough discussion took place on the development of production, issues of cooperative cooperation and others were discussed.
The work of the Forum was continued by the Plenary Session "Status and Prospects for the Development of Agricultural Cooperation" with the participation of politicians, scientists, representatives of agribusiness, and experts.
The festival runs until November 23rd.